Gladelig Jul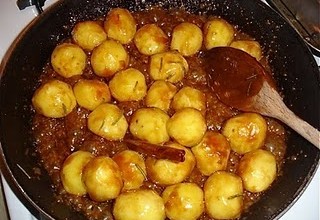 A while back several of you asked about my Danish Christmas potatoes prepared on Chopped Champions. Tis the season (and a nod to my wife), I've decided to post the recipe as they're the perfect side dish for your holiday celebration, not to mention easy to knock up. I hope you'll give them a go and do enjoy the holiday season. Cheers!
New potatoes 2 1/2 lbs, rinsed and peeled
Dark brown sugar 3/4 cup, packed
Unsalted butter 4 tbsp
Cinnamon stick 1
Fresh rosemary 2 sprigs
Pomegranate juice 2 splashes, alternatively cranberry juice
Coarse sea salt 2 pinches
Preheat the oven to 400F. Cover potatoes w/ water in a medium sized pot and parboil for 2-3 minutes. Drain and set aside.
Melt butter in a large saute pan over medium heat, add the cinnamon stick, rosemary, potatoes and coat in the butter. Stir in the sugar until melted and bring to a boil.
Slightly reduce the heat. Add the pomegranate juice and stir until the sugar darkens in colour and the potatoes are well coated, careful not to burn the sugar, about 2 minutes.
Place the potatoes/saute pan in the oven and cook for 25 minutes. Remove the potatoes from the oven, give a final stir and transfer to a dish. Sprinkle over the salt and serve hot. Serves 4
Photographs and Text © 2010 All Rights Reserved. Madison Cowan