Early One Sunday Mornin'…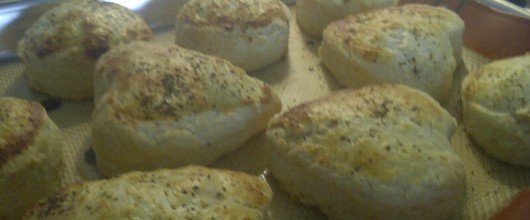 For me, nothing says Sunday morning quite like buttermilk biscuits. Light, fluffy pillows of buttery goodness, scratch made and pipin' hot from the oven. Biscuits are extremely easy to make and are perfect as a meal by themselves. Traditionally served with syrup, molasses, gravy or jam, today it's Nutella for my girls and a thin slice of butter and honey for me. Quick Tip: If you don't have buttermilk to hand, just add 1 tbsp of white vinegar to 1 cup of whole milk and refrigerate a few minutes.
Buttermilk Biscuits
Unbleached flour 2 cups plus extra for dusting
Baking powder 1 tbsp
Salt 1 generous pinch
Unsalted butter 4 tbsp, cold from the fridge
Shortening 4 tbsp, cold from the freezer
Buttermilk 1/2 cup plus extra for brushing
Black pepper alternatively use cinnamon sugar
Preheat your oven to 425F and line a baking sheet with parchment paper. Whisk together the flour, baking powder and salt in large bowl. Using your fingertips, rub the butter and shortening into the dry ingredients until you have a coarse texture. Make a well in the center of the flour, add the buttermilk and mix by hand until the dough just comes together in a ball and the sides of the bowl are clean.
Turn the dough onto a lightly floured a work surface, pat into a 10 inch circle, about 3/4 inch thick and cut with a lightly floured 3 inch pastry ring (we used heart-shaped as well). Place the biscuits on the baking sheet, just touching one another, then quickly reshape and repeat with the leftover dough. Brush the tops with buttermilk and lightly season with black pepper. Bake until the tops are golden brown, about 15 minutes and serve hot. Makes about a dozen biscuits.
ⓒ 2012 All Rights Reserved. Madison Cowan, LLC