Savoury Matinee Snack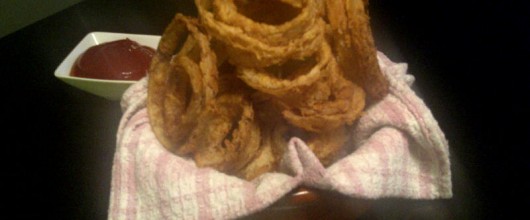 Enjoying an old black & white film on a cool, overcast Saturday afternoon is very much welcomed following a long week. And right on cue, my wife, daughter & dog leap to their feet as I motion toward the kitchen for a bit of something. A quick survey of the cupboards & refrigerator shelves: buttermilk, a single sweet onion, an abundance of dry goods… ONION RINGS! Extra crispy on the outside, soft, tangy & sweet inside, a hint of spice… chat w/ you later!
Crunchy Buttermilk Onion Rings
Vidalia onion 1 medium, peeled & sliced into 1/2 inch slices
Unbleached flour 2 cups
Onion powder 1 tbsp
Sweet paprika 2 tsp
Sea salt 2 tsp
White pepper 1 tsp
Buttermilk 2 cups
Tabasco 2 tsp
Peanut oil 2 cups, alternatively use grapeseed oil
Separate the onion slices into individual rings and remove the papery skin inside each ring. Line a baking sheet with kitchen paper and heat the oil in a large cast iron skillet over medium heat.
Combine the flour and the next 4 ingredients in a large bowl and divide evenly into 2 large paper sandwich bags. Stir the buttermilk and tabasco in a large mixing bowl or baking dish. Working in batches, shake the rings in the first bag of seasoned flour, shake off the excess and drench in the buttermilk, coating evenly. Lightly tap off the excess buttermilk then shake the rings in the second bag of flour. Shake off the excess and transfer to the hot oil.
Fry the rings, turning once using tongs, until golden brown, about 2 to 3 minutes per batch. Remove from the oil and drain in a single layer on the lined baking sheet. Season with extra salt, if needed and repeat until all the rings are fried. Serve straightaway with your favourite dip. I'm using tomato ketchup with chopped chipotles in adobo and a splash of worcester sauce. Serves 4
ⓒ 2012 All Rights Reserved. Madison Cowan, LLC